Luxury Glamping and Cabins Near Houston, Texas
ÖÖD Mirror House At

Cameron Ranch Glamping
ÖÖD Mirror House is the newest addition to Cameron Ranch Glamping in Texas and there is nothing else like it! This breathtaking tiny home is the perfect glamping getaway that YOU deserve. Nestled on our expansive 11+ private acres in Coldspring, Texas, just an hour away from Houston, the ÖÖD Mirror House promises a serene retreat on top of Huffman's Creek.
Unique Vacation Rental in Texas

3 Guests

Wifi
Starts at

$349+

Per Night
Out Of This World Glamping

Geo Dome
Have you ever spent clear nights stargazing into the sky, wondering what it would be like to experience outer space? If so, strap yourself in for takeoff and get ready to check out this space/NASA-themed geodesic dome, nestled out in the middle of a lush and beautiful forest. This home away from home is guaranteed to provide peace, quiet, and an out-of-this-world encounter for everyone, all with a touch of elegant luxury.
Vacation Home

4 Guests

wifi
Starts at

$249+

Per Night
Texas History

Vacation House
Get ready to experience the grandeur of Texas like never before! Step into our stunning Texas History Ranch House and get ready to have your mind blown. From the stunning floor-to-ceiling windows that reach over 30ft high to the luxurious oversized king bed in the primary bedroom, this massive 2200 sq. ft 4 bedroom, 3.5 bath two-story house has everything you need to unwind and relax in nature's luxury on 2+ private Acres.
Vacation Home

12 Guests
Kitchen · wifi · Washing machine
Starts at

$299+

Per Night
In addition, you may find it difficult to experience all the must-try activities we offer; you may find yourself booking another stay before you head back home! To name a few of all the great activities we have to offer are near by:
Bird and Wildlife Watching Sites
Boat and Jet Ski Rental (Lake Livingston and Lake Conroe)
100 Mile Hiking Trails (Lone Star Hiking Trail)
100 Mile Hiking Trails (Lone Star Hiking Trail)
Experience Luxury Glamping And Cabins at

Cameron Ranch

:
A Nature Lover's Paradise in Texas.
Sometimes we all need to step away from the routine craziness of our everyday lives and do something to recharge our bodies and minds. If you are among the many looking to escape for some much-needed rest and relaxation, look no further than Cameron Ranch Glamping, where you can disconnect from the daily grind and plug into the healing powers of nature. Our one of a kind Geo Dome Cabin, Texas Ranch House, or Nature's Reflection Mirror House are the perfect escapes for luxury glamping near Houston, Texas.
Read More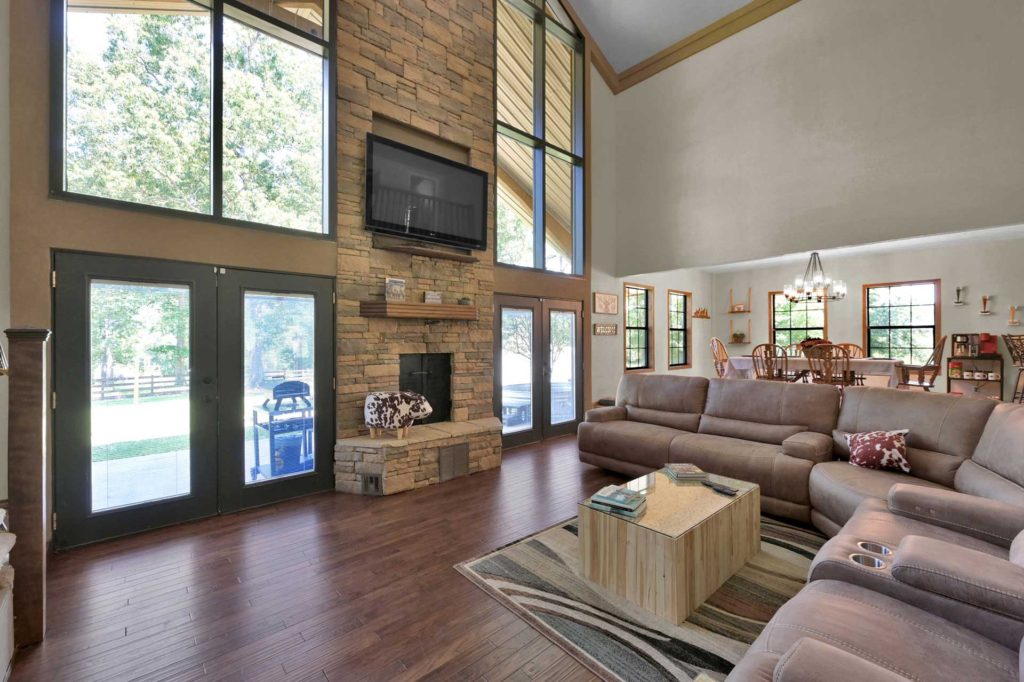 OOD Mirror House Walk Through
Texas Vacation House Walk Through
Amazing stay. The perfect get away and it was convenient for me because it's about a hour out from Houston area. The amount of amenities you get for the price is unbeatable! Will be coming back to check out there other houses!
Jeffery Reznicek
2023-10-20
Great place to get away and enjoy some time in the outdoors. They have thought of everything. We stayed in the Dome and had a blast. Enjoyed time in the hot tub, took a stroll over to the new mirror house. Definitely will be coming back.
Beautiful spot
Claudia Martinez
2023-10-06
Amazing experience, the best place to spend our 20 Anniversary, 100 % Recomended...Everything was clean and beautiful......always in contact with us asking if we need something...Thank you Cameron Ranch
Toddisha Burrell
2023-10-04
Had a blast everything was perfect will definitely do again
Fun in the City HTX-Leney
2023-09-19
Love staying at the dome! So much to do in the property, cooking, making pizza, hiking, s'mores, hot tub, fishing, put out golf. A great getaway!
This is a one of the best experiences I've had in a long time. So peaceful and serene!
Marvella Funez
2023-08-28
100% recomendado sin duda alguna volveré a ir es muy relajante y sobre todo un lugar muy limpio y la comunicación con el dirigente es perfecta mi esposo y yo quedamos enamorados de este hermoso lugar lo elegimos para festejar nuestro aniversario y no nos arepentimos 😍🥰
Since we got there at the Dome.. there's so much great vibe and we had a lot of enjoy. Hot tub, grill, beautiful views are so amazing! It was best to bring our projector and chill in the hot tub. THUMB UP. This is very necessary for couple to be alone time together. You did this really great! We would love to come back again like next time.
Everything was amazing! It was a birthday surprise for my wife and she cried tears of joy upon our arrival. Very refreshing and relaxing. Only stayed one night but it definitely recharged us. Definitely would stay again.
The geo dome and scenery was beautiful. Inside the dome was very neat and clean. The little pond had some small fish, it was fun to catch and released them.
From booking to checkout, Garrett's communication has been incredible. We loved our stay here. All of the small decorative touches made it so quaint and cozy. The activities provided on-site were thoughtful and fun.
A must do! Great place to stay at we will defiantly be booking again soon. Garrett was very helpful and responsive. Everything stated is true. Watch his YouTube video it was very helpful. Beautiful relaxing place.
Such an amazing and one of a kind experience. This literally is the Best Airbnb I have ever rented, my family loved every part of it. Property is very private, quiet and relaxing. Awesome hot tub, pizza oven is great and easy to use, fire pit had plenty of wood, putting green was cool and so much more to do. Garrett was a Super host and very responsive and helpful with insight. Property was easy to find and exactly as pictured. 5 stars all the way! Really enjoyed the place. Very clean and much to do. I caught bass from the stocked pond. Also I really enjoy the country road drive and small town atmosphere. Sunset and sunrise are cool.
Garret was super responsive and helpful. Check in was extremely easy, everything was as described. The place was very relaxing and romantic! We loved it and will be back!
Very unique and peaceful place to stay. Private and comfortable place to unwind and connect with nature.
We Donate And Support Mental Health Awareness (American Foundation For Suicide Prevention And The Jed Foundation)

And Sustainability

(Stripe Climate)
Come and forget the fast paced life with our Luxury Glamping near Houston, Texas
Check out our trailer to get a feel of what paradise may look like!
You can now book our Geo Dome, Mirror House, or Texas Vacation House!
Please Contact Us with any questions, comments, or concerns and we will get back to you as soon as possible.
Join our Monthly Newsletter for chances to win free stays, discounts, updates on new builds, and more!
Take care now y'all and we will see you soon!